FHMS 2023 PRESIDENT'S SCHOLARSHIP AWARD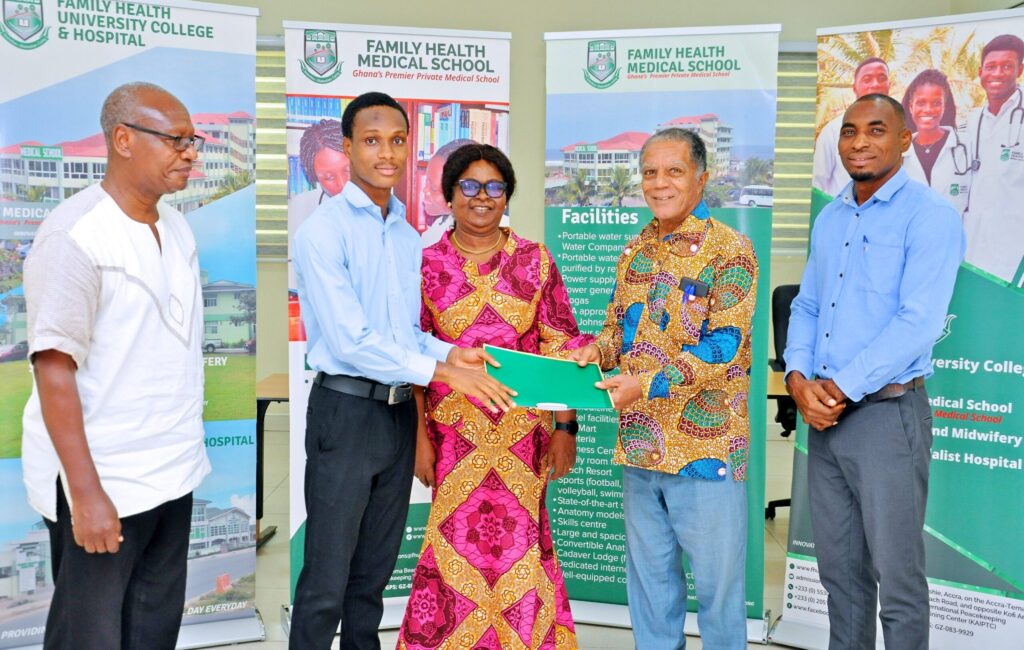 Elvis Emmanuel Owusu, an old boy from St. Peters Senior High School in the Eastern Region has been awarded 2023/2024 Family Health Medical School (FHMS) President's Scholarship.
The President's Scholarship Award was instituted by the Management of Family Health University College to honour deserving Senior High School students who excel in the Sciences division of THE SHARKS QUIZ. The Quiz is an intense and exciting academic competition organized annually, and partly sponsored by Family Health Medical School.
Elvis Emmanuel Owusu is the fourth beneficiary of the President's Scholarship Award since its inception. His sterling performance caught the attention of the Management of FHMS when together with his teammates, won the highly competitive 2022 Senior High School edition of THE SHARKS QUIZ.
The Registrar, Mrs. Rita Kaine, expressed Management's delight to have Elvis enrolled on this year's undergraduate medical programme, and assured him of the Institution's preparedness to give him all the needed support to ensure his dream as a Medical Doctor becomes a reality.
Expressing his appreciation, Elvis was thankful for the opportunity and honour done him by the Founders, Prof. Enyonam Yao Kwawukume and Dr. Susu Kwawukume. He said, his dream of becoming a Medical Doctor to serve his community was happening because of this great initiative by them. He promised to be studious and dedicated to his studies to enable him to achieve his dream.
Meanwhile, the Family Health University College has recently launched the Family Health Medical School Endowment Fund. The Fund, among others, aims at providing financial support to defray tuition fees and other related expenses with regard to Medical training of qualified and brilliant but needy Ghanaians in the nation's Premier Private Medical School.
Present at the presentation ceremony were the Dean, Dr. Charles E. Fleischer-Djoleto, the Registrar, Mrs. Rita Kaine, the Director of Academics & Students' Affairs, Dr. Emmanuel K. Labram, and an Assistant Registrar, Mr. Moses Paafio Kwao.
The Family Health Medical School is committed to the holistic training of Medical professionals in the advancement of human health. The School offers a six-year Bachelor of Medicine and Bachelor of Surgery (MB ChB) programme for SSCE and 'A' Level candidates, and four and a half-year Bachelor of Surgery (MB ChB) Graduate Entry Medical Programme (GEMP) for first-degree holders in science-related disciplines.
The Family Health Medical School has recently been approved by the Educational Commission
for Foreign Medical Graduate(ECFMG), making its students and graduates eligible to apply for ECFMG Certification and United States Medical Licensing Examination(USMLE).