Family Health Team Visits Dr. Evans-Anfom
Still exhibiting intelligence like a young medical student, 98-year-old medical Surgeon, Dr. Emmanuel Evans-Anfom, has tasked medical professionals both home and abroad to be patriotic and serve Ghana to the best of their ability.
Dr. Evans-Anfom made this appeal when Students and Management of Family Health University Collage Medical School, led by Prof. Yao Kwawukume and Dr. Susu Bridget Kwawukume, paid him a visit at his residence in Accra. In his early comment, Dr. Evans-Anfom disclosed that he happened to have attended school with one of the brilliant uncles of Prof. Kwawukume, so when he got to know that Prof. Kwawukume had established a Medical School, he said to himself "Students in this school are indeed blessed". Sharing his experience with the medical students, Dr. Evans-Anfom indicated that, Doctors are good managers, and therefore should not think that apart from their profession, they cannot do well in any other sectors.
He recounted going to study abroad as a Doctor, and later ended up in becoming an administrator at KUNST, where he performed creditably. He reminded the students who are aiming to become medical professionals that in the medical profession, a lot of care is needed. He thus asked them to be prepared to learn from their seniors whom they would likely meet outside after completing school. "Be humble to learn and not to try knowing everything, he said".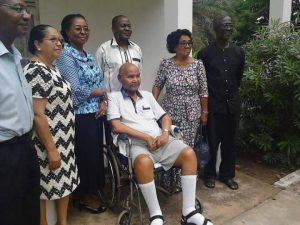 Dr. Emmanuel Evans-Anfom further entreated the medical students to first aim at achieving credibility and integrity, and not to think about their pocket, adding that, with faith in God they can always do the right thing to move the nation forward. Dr. Evans-Anfom said the students cannot achieve much if they don't pay serious attention to whatever training that is imparted in them by their lecturers and professors at Family Health University College Medical School. He thus urged all medical professionals who were privileged to be sponsored with tax payers' money to be patriotic and help develop the country.
The founder/President of Family Health University College, Prof. Yao Kwawukume thanked Dr. Evans-Anfom for providing useful insight to the young medical students. He assured that, with the kind of rich managerial skills, wisdom and experience gathered from Dr. Emmanuel Evans-Anfom, he would equally apply to always ensure harmony between management of the school and the Students Representatives Council. At the end of the fruitful interactions, Dr. Susu Bridget Kwawukume made a presentation of food items and other items to Dr. Evans-Anfom and wife, as a sign of appreciation for the honour done them, and asked God to grant them good health and long life.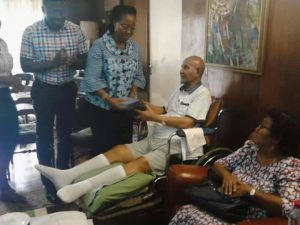 Dr. Evans-Anfom, a Ga-Dangme, was born on October 7, 1919 at the Evans family house, High Street, Accra. His father, William Quarshie Anfom, was of Shai and Nzema origin. His mother, Mary Evans, was the daughter of William Timothy Evans, a teacher cum catechist of the Basel Mission Middle School, now the Salem School at Osu. The Evans family was a well-known Euro-African Ga family in the Gold Coast. In 1925, he enrolled at the Government Boys School in Jamestown. He attended the Presbyterian middle boarding school, the Salem School at Osu, where the principal at the time, Carl Henry Clerk, encouraged him to apply for a Cadbury Scholarship for study at Achimota School, instead of going to the normal teacher-training route at the Basel Mission-founded Presbyterian teacher training seminary at Akropong, now known as the Presbyterian College of Education, Akropong.
In January 1939, he enrolled in the inter-preliminary medical course of Science at Achimota. In that course, he received advanced training in physics, chemistry, botany and zoology. At Achimota, he won a Gold Coast medical scholarship in 1941 to study medicine at the University of Edinburgh, graduating in 1947. He also studied for a postgraduate diploma course in tropical medicine, completing in 1950. Evans-Anfom worked in various hospitals in the government health system, namely Korle-Bu Teaching Hospital, Dunkwa-On-Offin Government Hospital, Tarkwa Government Hospital, the Kumasi Central Hospital, Tamale Government Hospital and Effia Nkwanta Hospital in Sekondi. During his long medical career, he worked with other medical trailblazers such as Susan Ofori-Atta and Matilda J. Clerk, the first and second Ghanaian women physicians respectively. A pioneering medical educator himself, he was approached by the first Ghanaian surgeon, Charles Odamtten Easmon in 1963, for a teaching professorship position at the then newly established University of Ghana Medical School, an offer he eventually accepted.
He also did medical outreach in the Congo in the 1960s. In 1996, he was adjudged the "Alumnus of the Year" by his alma mater, the University of Edinburgh for "his major contribution to the development of medicine in the Congo and to medical education in Ghana." Term as Vice Chancellor: Dr. Anfom served as the Vice-Chancellor of KNUST from 1967 to 1973. At KNUST, Anfom first introduced the ceremony commonly known as "Matriculation" into the university entry ceremonies. He has chaired a myriad of committees, boards and missions, both locally and on the international scene in Africa, Europe and North America.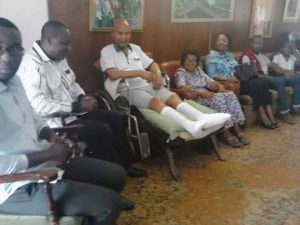 Commissioner of Education: Evans-Anfom served as the Commissioner of Education under the military governments of Fred Akuffo of the Supreme Military Council, and later, the Jerry John Rawlings led Provisional National Defence Council in the late 1970s and early 1980s. He was a member of the Council of State in the Hilla Limann government from 1979 to 1981. Dr. Evans-Anfom has four children with his first wife Leonora Evans, a West Indian American who died in 1980. In 1984, he married Elise Henkel. Some works of Dr Anfom are:
"To the Thirsty Land: Autobiography of a Patriot, Africa Christian Press, 2003."
Intestinal Perforation – Some Observations on Aetiology and Management
The Evidence for Transformation of Lymphocytes into Liver.
Reported By: William Sarpong/citifmonline
Below are some pictures of the event: